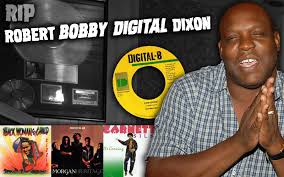 Robert "Bobby Digital" Dixon, one of dancehall/reggae's most successful music producers, died on Thursday at age 59. He reportedly succumbed to a kidney-related illness after he had gone to do his weekly dialysis treatment at the hospital.
Reports are that Dixon began to feel ill and was eventually admitted and later died.
Reggae music has been plunged into mourning at the untimely passing of a man, widely regarded as a titan whose distinctive style defined the computerized era of dancehall like no other. Dixon owned the Digital B label which produced seminal dancehall greats like Shabba Ranks and Sizzla.
"He was one of the greatest producers ever in dancehall and reggae music. He was a great colleague, and a great friend, and one of the most brilliant minds in reggae music. He was the one who brought Shabba Ranks to the world, and he started off Garnet Silk too. Bobby just had a distinctive feel for the music, a brilliant mind, and he was truly one of reggae's greats. He will be missed," Bunny Lee, head of Trojan Records, told Loop News.
Dixon was given his nickname "Bobby Digital" by friend and colleague Bunny Lee in the early 1980s.
"He was always in good spirits. I remember he used to cut dubs at Jammys, and I asked him to engineer a Pat Kelly album and he used the digital ting and did a great job, and mi start call him Bobby Digital," he said.
Originally from Olympic Gardens in Kingston, Dixon was a protege of engineer/producer Lloyd "King Jammy" James with whom he started his career as an audio engineer.
In the 1980s, Dixon helped stylize the computerized phase of Jamaican music, as an accomplished digital engineer.
Dixon established himself as a top flight producer with a raft of hit songs by Shabba Ranks starting in the late 1980s with 'Peenie Peenie', and followed up that with a veritable tsunami of dancehall anthems such as 'Just Reality', 'Live Blanket' and 'Wicked In A Bed'.
Other hit songs produced by Dixon were 'Till I'm Laid to Rest' by Buju Banton, Cocoa Tea and Admiral Tibet's 'Serious Times', Garnet Silk's 'It's Growing' and Sizzla's 'Black Woman and Child'.
In the late 1990s he began to work with a raft of Rastafarian reggae artistes such as Morgan Heritage, Sizzla, Anthony B and Richie Spice. He was the producer of Sizzla's critically acclaimed 'Black Woman and Child' album of the late 1990s, and Morgan Heritage's breakthrough album, 'Protect Us Jah'.
Dixon has produced more recent albums for Richie Spice, Anthony B, Morgan Heritage, Chezidek, Ras Shiloh, Louie Culture, LMS, Mikey Spice, and Norris Man.
He also produced 'Don't Haffi Dread', the breakthrough song and album by Morgan Heritage.
Bobby Digital's hit streak included a flurry of number one songs. They are Serious Times by Shabba Ranks/Admiral Tibet and Ninja Man, Kette Drum by Beenie Man and Determine, Kingly Character by Garnet Silk, Jump Up by Admiral Bailey, Enemies by Pinchers, Tek Him by Mad Cobra, When I'm With You by Wayne Wonder, Just One of Those Days and Thank You Mama by Sizzla, Boogie Down by Beenie Man, Glamorous and Top Ten by Terror Fabulous, Give it A Chance, I Can't Wait and Missing You Now by Sanchez, Grab Yuh Lass and Come by Louie Culture and Mikey Spice, Good Looking Gal by Buju Banton, Miss Getty Getty by Major Mackerel, Sweet Jamaica by Tony Rebel, Talk Bout Friend and Your Body's Here with Me, which were early 1990s comeback hits for Leroy Smart; and Hot This Year, the sole hit for deejay Dirtsman, who died in 1991.
Robert "Bobby Digital" Dixon is survived by his wife Merva, three children, two grandchildren, a sister and two brothers.