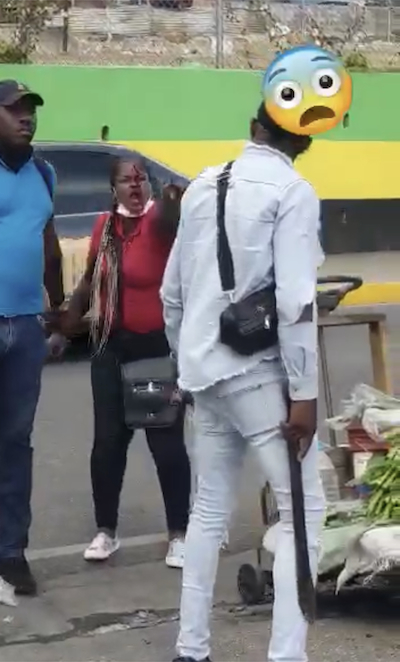 CLAUDE MILLS
The May Pen police arrested and charged a male vendor who was accused of chopping a female vendor during a dispute on Wednesday afternoon. A video, showing the altercation, was widely circulated on social media yesterday where the female vendor was chopped several times by the man who had to be restrained by a police officer, who fired two shots in the air to defuse the situation.
Vendors and shoppers scurried for cover after the off-duty police officer discharged his weapon after the man leapt over a concrete divider and chopped the woman in her face in full view of several witnesses. People screamed 'murder' and a woman wailed 'Jesus Christ God Almighty', while others remarked conversationally: 'yu nuh see the man chop the woman inna her face?'. Another video showed the woman hurling goods in the man's face and saying 'mine mi kill yu out ya so! Mine mi kill yu (expletive deleted) Gweh!'. The man left and then the argument escalated into bloodshed.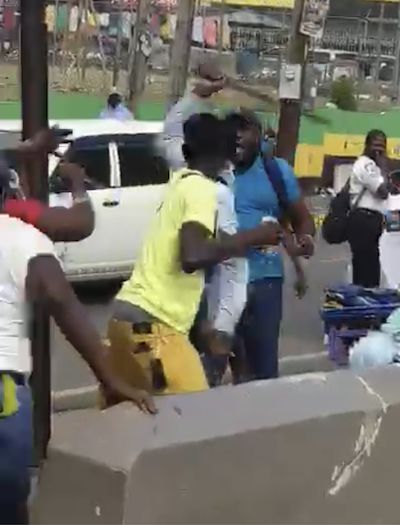 The incident, which took place in the vicinity of the Bargain Village, He was later arrested and taken to the May Pen Police Station.
The Clarendon Municipal Corporation, the local authority responsible for issuing vending permits, is aware of the incident. The corporation issued a release to underline the fact that the vendors were plying their wares illegally in the space, and the area, which is a no vending zone, is being overrun by vendors.
ONE876 understands that the incident was a culmination of a week-long argument between the two, who were arguing over space. The woman remains in hospital with chop wounds to her head and upper body.