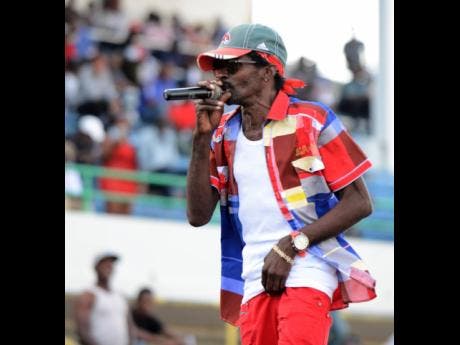 Popular entertainer Gully Bop is dead. The Body Specialist deejay passed away after a long battle with kidney disease. He was 59.
Pastor Christopher Tate, who is now preaching live on Facebook page: Jesus Ark, confirmed that Gully Bop had passed away.
"It's confirmed, it's confirmed," he told one876entertainment.com. Prophet Christopher Tate is an ordained pastor of the Christ in Chris Healing and Deliverance ministries.
Gully Bop, whose real name is Robert Lee Malcolm, is survived by three children, Nicky, Debreka and Neko Malcolm.
"See Gully Bop dead and gone, you're gonna face your judgement too in the name of jesus Christ, you are followers!" he preached, as he lambasted Aunty Donna and others who had shunned Gully Bop.
With regard to his health issues, Gully Bop had explained earlier this year that he did surgery at the Kingston Public Hospital in 2022, and one year ago he did a kidney transplant.
He was in the hospital at KPH for two weeks and it is confirmed that he passed away, he never had to die this way in pain," Tate said.
Gully Bop had reportedly struggled with health issues in recent months. The Body Specialist deejay had reportedly undergone a surgery at the Kingston Public Hospital in 2022, and one year ago he did a kidney transplant.
"The man sick and ah s—t up self, everybody ah call say can you confirm that Gully Bop is dead? Stop worry about Gully Bop, it is finished. Everybody wanted to see him dead, they don't look at the earthquake and wake up and change dem dutty ways," he said.
He added that 'Gully Bop give weh everything, they said he was a cokehead, but he couldn't coke out everything…he gave away everything'.
Prophet Tate said Gully Bop realized that he had a kidney problem a few years ago while he was doing some gardening.
"He was trying to pull up a root, and he dropped and licked his back and he realized he had a kidney problem and he had a kidney surgery and he had the bag at his side. Things were so bad with him at one point that he couldn't afford pampers so we stepped in to help him," he said.
Pastor Tate said that Gully Bop had been baptised 'at an associate's church' before his death.
"He got a new kidney but he is still not able to function the way he want to. He is still healing and using the bags … and people are trying to hold him down in every way they can. This is a life and death situation that need spiritual healing as well," said Pastor Tate said in an interview when he stressed that God sent him to Bop's aid.
"He needs assistance to buy food and medication to improve his health," Tate said at the time.
Prophet Christopher Tate, who claims to be an ordained pastor of the Christ in Chris Healing and Deliverance ministries, said that there is no attempt to exploit Gully Bop.
"He is not doing too well, I am gonna have to take him into my care for a while. We put him through the surgery – with the help of evangelist Erma Savage – we had to buy a new kidney for him. After that, he got baptised earlier this year, but he is still struggling, a new convert, it is not easy for him to 100 per cent to get there, but the Lord bring me to him to complete him," Prophet Tate told bounce876.com.
He said he was "rich two times in his life" and that he was no "iniquity worker".
"Money is not the thing," Prophet Tate said.
"He is living with his brother in a house in Grants Pen with his brother. He used to live with his mother but she is not well so she moved to St. Thomas. He needs a wider help that I cannot provide for him. He was living at a house but the house was sold, and he is homeless and that is not hygienic as he is on the streets. He needs food and a place to sleep," he said.
According to Prophet Tate, Gully Bop has recorded a few unreleased gospel songs since his conversion to Christianity and that he can be a powerful messenger for God.