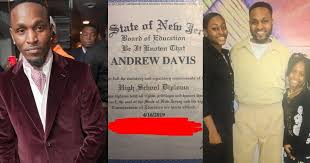 From Ace of Spades to acing essays and assignments, incarcerated dancehall deejay Flippa Mafia is in the middle of a long strange journey. The former high roller recently aced his high school diploma behind bars.
The entertainer, whose given name is Andrew Davis, made the revelation on popular social media platform Instagram on Tuesday with a photo of the certificate. The new achievement that was awarded by the State of New Jersey was dated April 16, 2019.
In 2015, Flippa Mafia was found guilty of first-degree distribution of cocaine, second-degree money laundering, and second-degree conspiracy in the Camden Superior Court in New Jersey, after a three-year trial. He was also ordered to pay a US$250,000 anti-money laundering profiteering penalty.