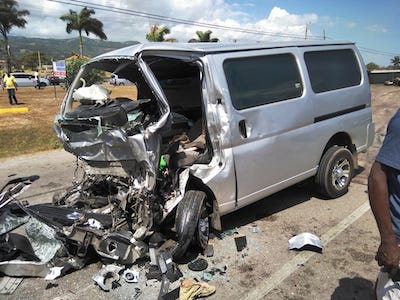 Two males, both relatives, died in a head-on crash between a Nissan van and a Jamaica Urban Transit Company (JUTC) bus heading towards St James in the parish of St Ann this morning.
The police have identified both men as Elkeito Mushette, 55, of Greater Portmore, and Sheldon Mushette, 29, of Spanish Town, both in St Catherine. The men were travelling in the Nissan panel van.
"The investigators have collected several statements but nothing solid enough to release an official statement to the media. However, we understand that two persons died this morning in St. Ann," a representative of the Corporate Communication Unit told Loop reporter Claude Mills.
The younger Muschette had to be cut from the vehicle, according to witnesses, as the front of the vehicle was pulverised into a hunk of crushed metal. Reports are that the JUTC bus had been transporting members of the Angel Assemblies of God in Spanish Town on a church trip.
According to the police, the men were killed when the Nissan panel van the elder Mushette was driving towards Kingston slammed into a Jamaica Urban Transit Company (JUTC) bus heading towards St James.
The accident happened shortly after 9 a.m. along the Richmond main road in the vicinity of the Royal Plantation housing scheme.
The driver of the JUTC bus was treated at hospital along with 45 passengers, one of whom remained hospitalised in critical condition.
Investigators believe the Nissan panel van drifted into the path of the bus, causing the head-on collision. Five persons have died in motor vehicle crashes in Kingston and St Ann in the last 24 hours.
Two of the crashes were head-on collisions, according to reports.
Two men died last night after a motor vehicle crashed head-on into a Knutsford Express bus along the Palisadoes Road in east Kingston minutes after a female pedestrian was hit by a car along Mountain View Avenue.
The latest fatalities have pushed the number of persons killed on the nation's roadways this year to 241, an increase of 24 per cent when compared with the corresponding period last year.