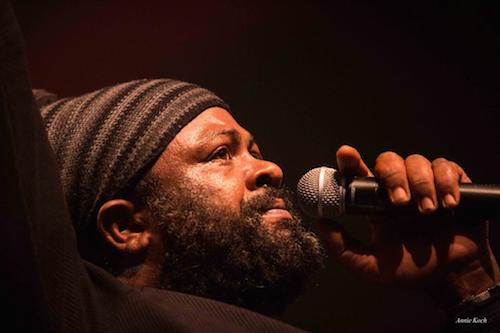 Reggae firebrand Fantan Mojah has ignited a firestorm of criticism online with the video for his new single, 'Fire King'. Released on the Gold and Goals Production label, the song has been slowly gaining traction in the dancehall.
However, when the swanky visuals for the single were released this week showing a fiery Fantan Mojah, seated on a bed, and surrounded by a bevy of young gyrating women in provocative clothes, while spitting risque rhymes like 'G string a pap like lastic' and 'mi touch gal hard mek dem vomiting'.
Fellow artiste Popcaan replied to the video with the naughty caption : Chubble foot feet!
But after a few hours, the comments turned ugly on Instagram, with bloggers heaping coals of criticism on the Fire King's head, even accusing him of being a 'freak'. Others accused the rastafarians of 'not holding the order'.
The artiste took the criticism in stride, assuring his reggae fanbase that he had not abandoned righteousness and positive music for the questionable morals, instant gratification and female degradation glorified by dancehall.
"We nah stop bun the fire, we never stop bun the fire, dancehall or reggae, any genre of music we do, we bun the fire same way, we ah entertainer, music ah music," Fantan Mojah told Loop News.
Still, the comments came fast and furious online until it was a feeding frenzy on some online IG sites. Some users suggested things like: "Looks like mama and papa ain't hungry anymore".
Others asked: "What in the midlife crisis is going on?" while another enquired: "So him stop walk wid poor people problem inna a him bag?"
One sarcastic wit posted: "Capleton ah turn inna him grave and him not even dead yet".
Others cringed: "This is awkward". Another said: "Idk, but this is so disturbing" while another condemned Fantan with the slight : "If fashion dread was a person."
Some welcomed Fantan's decision to trod into the world of dancehall, hinting that it must be for economic reasons.
Another said: "Suh a wah happen, The ital song them nah make no money. Suh u come over the skin out slackness side. Stay deh nuh sing skin out song and see if you, u pa and ma nah go dead fi hungry".
One user cheered: "Rasta where the money resides", while another jeered: "How yu mean rasta u come out!".
One thing is certain, uneasy is the head that wears the Fire King crown! However, Fantan is not fretting.
"Sizzla say mi fi gwaan bun the fire. Popcaan endorse the ting, and the selectors dem love the song. It ah play in the streets, the people dem love the flavour," he said.
Fantan Mojah was born in White Hill, St Elizabeth. To gain experience, he took a job working with a traveling sound system, and performed songs during soundchecks. He adopted the name Mad Killer, in an homage to one of his favorite artistes, Bounty Killer. After being exposed to the Rastafarian movement his music began to take on a more positive tone, and he was encouraged by Capleton to take the name Fantan Mojah.
Signed by Downsound Productions, Fantan's debut album "Hail the King" was released in 2005, making him a star with songs like "Hail the King", "Nuh Build Great Man" featuring Jah Cure and "Corruption".