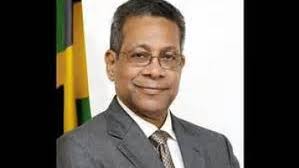 Former Deputy Prime Minister, Dr Ken Baugh, has died.
He was 78.
Prime Minister Andrew Holness said that Dr. Baugh was the consummate professional and that he gave the better part of his life in service for the people he represented and his country.
"He exemplified dignity and integrity throughout his public life. He was respected and held in high esteem by both sides of the political divide and could always be relied on to be a balanced and reasoned voice. His manner was always conciliatory and solution-oriented. He was an honest man, a sincere man; a decent man. His conduct gave him stature elevated above politics. He was a true statesman and we will miss his guidance and steady hand. The entire nation owes him a debt of gratitude," said Prime Minister Holness.
Baugh retired from politics due to illness in 2016. He had developed a brain tumour and had to undergo surgery in 2015. He gave his life to the Lord, through baptism, before the surgery.
The mild-mannered Baugh, who was also called Ken 'the gentleman' Baugh, was general secretary and chairman of the Jamaica Labour Party. He was Opposition Leader, foreign minister, health minister, and Member of Parliament for West Central St Catherine as well as North West St James.
DR KEN BAUGH FACT SHEET
1.Dr Baugh was born in Montego Bay, St James, the fourth of 10 children. He was educated at Springfield Elementary School, Cornwall College and the Royal College of Surgeons, the University of the West Indies.
He was a medical doctor and consultant surgeon by profession.
He defeated Howard Cooke (PNP) in the 1980 election in St James North Western. He won by a margin of 4,272.
Served as MP for West Central St Catherine between 1997 and 2016.
5.Dr Baugh briefly replaced Edward Seaga as leader of the opposition Jamaica Labour Party (JLP) in January 2005, following Seaga's retirement from politics.