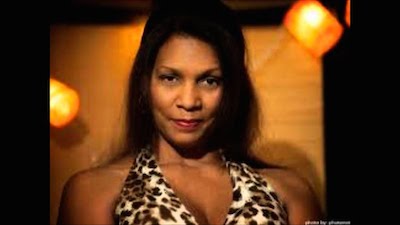 Don't call it a comeback. The heart of reggae-soul singer Sharon Forrester never departed from reggae and lover's rock music. In fact, Forrester's latest release, 'Simply Falling', a cover of American singer Iyeoka, shows off the full range of her vocal prowess on this catchy tune.
She said that Iyeoka's original song spoke to her soul the first time she heard it.
"The moment I heard this song it resonated with me. The lyrics are simple but beautifully crafted. Willie Lindo is the musical mind, he produced and arranged the song, and it came out beautifully as a reggae version," she said.
The song was recorded at noted producer Willie Lindo's Heavy Beat Studio and released on Heavy Beat Records in May 2020. Musicians on the project include Willie Lindo, Robbie Shakespeare, and Robbie Lynn.
"The response from disc jocks has been very favourable so far. I got high compliments from many of them including John T of South Florida and David Rodigan in London," she said.
A music video is planned and should have been completed but has been delayed by the Covid-19 outbreak and subsequent lockdown of millions of people.
"The outbreak has delayed some of my projects and also plans to travel overseas. I have been in lockdown and have had to adjust my activities and ways of doing things with extra precautions both for myself and for anyone else that I come in contact with. Covid 19 is serious. I know personally people that succumbed to the disease. I am pained by the tremendous loss of life. I send heartfelt condolences to all bereaved families and to all frontline workers and responders lost in the pandemic," she said.
Forrester, who lives in South Florida, stressed the importance of staying current. Her last performance was in 2019 in West Palm Beach Florida where she was the featured artist at a ball.
"I am proud of all the great female artistes that have been through the hard times and have paved the way for this generation of female singers coming out of Jamaica. I hear some beautiful voices and I am encouraged that the playing field is becoming more balanced," she said.
Forrester was most active during the 1970s and 1980s when working with producers Geoffery Chung and Dianne Ellis.
Chung produced 'Silly Wasn't I', her biggest success to date, which came in 1973. A subsequent creative partnership with U.K. based Vulcan Records (Ashanti) produced her debut album, "Sharon," which won "Album of the Year,", winning London's "Black Music" and "Best New Artist" awards. Forrester's impact on Reggae music in England cannot be ignored was such that her British fans that first crowned her "First Lady of Lovers Rock."
Her performances received rave reviews, especially her appearance on the hit television show, "Aquarius," where she sang her version of George Harrison's "Here Comes The Sun." That same year she debuted on "the big screen" alongside famous British-Jamaican Reggae Star, Danny Ray, and then played a Jamaican mother in British Film Institute's cult classic, "Moon Over The Alley."
Always in demand as vocal arranger and background vocalist, she has arranged and sung harmonies for many artists including Grammy winners, Burning Spear, Julio Iglesias, Jimmy Cliff and Steel Pulse, Chakademus and Pliers, Alpha Blondy, Toots, Gregory Isaacs, Dennis Brown and Garnett Silk.