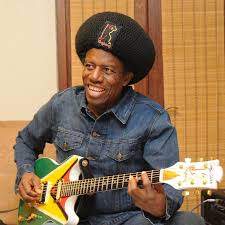 Legendary Guyanese-British singer and founder of the ringbang genre of music, Eddy Grant, has accused US President Donald Trump and his campaign of unauthorised use of his blockbuster reggae fusion hit song, Electric Avenue, which topped the US charts in 1983.
In a 54-second animated video on Twitter, which up to news time had 13.2 million views, the Trump campaign used Grant's song as the soundtrack, while criticising Democratic presidential candidate Joe Biden. It was originally posted to the personal Twitter account of White House Deputy Chief of Staff Dan Scavino, Kaieteur News states.
The site further added that Eddy Grant's legal counsel, Wallace E. J. Collins, who is a leading copyright authority, sent a cease and desist letter to the Donald Trump campaign. "Collins is demanding of the Trump campaign that they immediately cease and desist from any further use "or exploitation of Electric Avenue. He is also demanding that the Trump campaign "hold any monies arising out of or relating to your campaign" and attributable to the infringing use of Electric Avenue, until "the matter is fully and fairly resolved".
Grant posted a news story to his own Instagram account on Saturday, which stated, "Collins said 'we prefer to resolve this dispute expeditiously, in order to avoid time-consuming and costly litigation and the negative publicity that can surround the unauthorised use of such an iconic musical composition, especially where the use indicates a fundamental misunderstanding of the very meaning of the underlying work'." As for Grant, he had a few choice words of his own: "I call upon such arbiter, as is responsible for this sordid abuse, to come forward like a man and let's sort this thing out, in the way that America demands when such issues are to be sorted, especially when they are wrong. Mr Trump, I am calling on you. You are the final arbiter and I await the word from you."