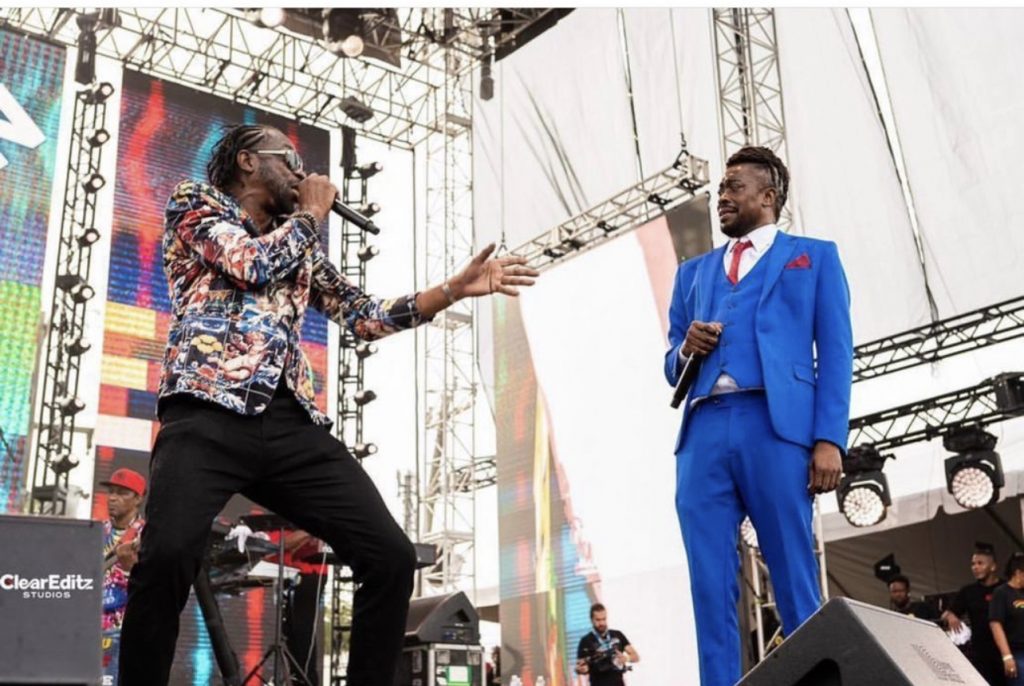 The music industry demanded that cooler heads prevail as a simmering feud between Bounty Killer and Beenie Man threatened to boil over on Instagram yesterday. However, both legends turned up to perform at 'Celebrating the Legends: The Icon Edition' scheduled for the The Marketplace Entertainment Centre for the Arts (MECA) on Tuesday evening and the feud seemed to be over.
"Sorry fo all who was looking for that negativity. Iconic legends at their best, the club was sold tonight," Bounty Killer said.
The event, organised by Dancehall Queen Carlene, is to raise funds for cancer.
Dancehall star Cham had publicly encouraged the two deejays to remain calm.
"Don't Break the Unity in The Community. Don't Take the Unity Out the Community," he wrote.
However, a dispute that had its genesis at Harry Toddler's party where Bounty Killer seemed to be upset at Beenie Man's appearance, suggesting that he didn't want to share the stage with Beenie until Sumfest.
However, Beenie showed up – at Banky's request – at a charity football event and the bad vibes persisted, so Beenie realized that "all of that showed me that something wrong".
"Then when we de pon stage, yu ah gimme high five. Mi Nuh Trust Yu, mi nah high five no man weh ah give me high five," Beenie said.
Bounty Killer claimed that Beenie Man dissed him at Reggae Sumfest when he said: 'Bounty Killer mi nuh trust yu'.
"Go trust yu family dawg, it's only bcuz I was well focused on the assignment why I didn't even buy into it then u would've heard that I spoiled the man tribute with personal feelings," Bounty Killer responded.
KingBeenieMan responded: I tried to be the bigger man and reached out privately yet the bredda still ah give me bad vibes. When mi react to it now, ah problem. Mi NUH TRUST BOUNTY AND A DEH SUH IT DEH. Mi nuh deh pon no flip flop friendship or flip flop unity
Bounty Killer shot back: Oh good so you did it on purposeI'm glad to know that well let me tell you this now we aren't no friends anymore from today on stay far from me bcuz I didn't know that we was a duo so if I had walked off stage it took away from your shine, did you mentioned that? You wanted us to perform together b4 did you even acknowledge me in the venue, did I know ntn about what you had intended to do, no you then came to the Porus the Sunday I was there b4 and you came saw me and what you did hold your head and walked passed me did you hailed me no so who the fuck you think you be that me gonna hail you so then at the rehearsal what did u expected me to hail you either you feeling yourself i see so unity done anything a anything yu bad Beenie
Popcaanmusic with the laughing emojis
Dellyranxmusic asked them "unu fix tings iya…mi love the unity weh unu hold".
A fan said: 'oh my God not again after verzuztv y'all showed so much growth it mad me smile knowing how very bad it used to be between you two. Please I'm begging y'all to stop this now now now
Not everyone loved the vibes as one fan complained: this beef is becoming like boring and out of touch. Too got to be starting stuff up again. Both of y'all are superstars coming off the performance of the year and this is what your b—-c—t fans get..
Others believed it was a publicity stunt to hype up a show at Mecca on Tuesday night.