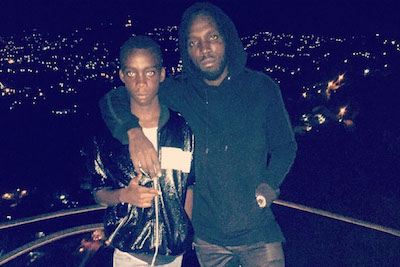 The prosecution could close its case by the end of next week in the murder trial of dancehall entertainer Mavado's son, Dante Brooks and his co-accused Andre Hines, according to attorney-at-law Peter Champagnie. The murder trial  got under way last Monday.
"I believe the prosecution is likely to close its case by end of next week," attorney-at-law Peter Champagnie, who is representing Brooks, told one876entertainment.com.
Champagnie said that he commiserated with the apprehensions of dancehall star Mavado aka The Gully Gad as his son battles for his freedom.
"Understandably, any father would be very apprehensive given such a situation which his son is now facing. He remains fully committed in the support of his son. Dante remains firm in his assertion that he is innocent and his defence team is fully focused on presenting this. Beyond this, it would not be appropriate to go into the testimonies of the witnesses," Champagnie said.
The Gully Gad has been closely watching proceedings of his son's trial as he released a plaintive track entitled, 'Not Perfect' where he sent Dante some encouraging words saying people love to talk even when they don't know the true story.
"Just know very soon dat yuh coming home," the Gully Gad crooned.
Mavado also took to Instagram to drop a few inspirational and encouraging words. He wrote: "The light will shine the dark will be brighter soon". And dropped a tear-jerking "Love you son" in another post where The Gully Gad shared photos posing with his son.
Brooks, 18, will be tried as an adult. He has been in detention since 2018 when he was charged jointly with Hines for the June 5, 2018 murder of Lorenzo Thomas, otherwise called 'Israel' or 'Trulups', in Cassava Piece, St Andrew.
The defence team for Brooks had opted to have a trial by a judge alone, as opposed to judge and jury. The charges laid against them included conspiracy to murder, arson, shooting with intent and illegal possession of firearm and ammunition. Brooks has been in a juvenile detention facility in Kingston, having had multiple bail applications denied.